February is National Relationship Wellness Month
February is National Relationship Wellness Month. When we hear the word wellness; physical and mental health may come to mind, but not necessarily wellness in our relationships. But, if you think about it, the health of our relationships affects almost every other area of our lives. The relationship between a parent and their teen or young adult can be very rewarding, loving, frustrating, heartwarming, frightening, and fun, and that's all in the same week! Honestly, a parent's relationship with an adolescent can sometimes feel like riding a rollercoaster, with many ups and downs of emotions, thoughts and moods. The good news is that if you are feeling these ups and downs with your teenager, it likely means that you are connecting with them and tuned in to how they are feeling themselves! Adolescence is a time when young people start to pull away from their parents and at the same time need and want that connection and support, so it can sometimes be hard to know when they need or want what, their space, a talk or a hug. Here are a few tips from our staff and youth at MoveFwd about how to check up on your own relationship wellness with your adolescent: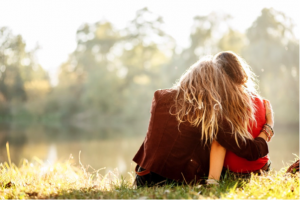 "When they tell you something that is stressful for them, thank them for sharing it with you and ask them how they want to be supported. Sometimes just listening can be the hardest part of a conversation with your teen, but what they need the most. One of the skills that a parent can cultivate in their adolescent is the ability to problem solve through stressful situations If they are really stuck and need to you to help them with the solution, they will probably tell you that if it is not something that you always jump to doing for them right away".
"When they or you need some space, take it! It's ok to cool off and come back to the conversation later when both of you are ready and will likely be way more productive than having it in the heat of the moment".
Don't get sucked into the pressure of being a perfect parent. It's ok for your teen to see you fall and get back up, ask for help, and get through stress even if times are hard. It's also healthy for them to see you make mistakes, apologize and move on; this will help them do the same in their relationships".
MoveFwd (formerly Teens Alone) is here to serve young people and their families in the western suburbs of Hennepin County. We provide:
Barrier-free therapy to youth and families
Housing assistance to young people who are homeless or at risk for homelessness
Housing program for young adults who are learning how to live on their own
Drop-in center at Eisenhower Community Center for young people 15-24
Outreach in the community to connect young people to housing, basic needs and mental health resources
MoveFwd is a 501 C(3) non profit, and your gift is tax deductible.