Sarah
Executive Director
Sarah is a Licensed Independent Clinical Social Worker and the MoveFwd Executive Director. She previously served as Program Director at MoveFwd for 3 years. Sarah received her master's degree in social work from the University of Minnesota. She has 20 years of experience working in nonprofit settings that serve youth and families.
Sara
Housing and Outreach Program Manager
I'm new to MoveFwd but not to the nonprofit world, have spent the last 20 years working with families, singles, and youth experiencing food insecurities and homeliness. I graduated from Metro State University with a bachelor degree in Human Services. Meeting each person where they are with strength based practices has always been my motto. The last 5 years working in a management role, supporting case mangers in the work they do while supporting the organization with funding and program decisions. Being a program manager you get a little bit of both worlds, while focusing on the mission. Happy to be part of the MoveFwd team.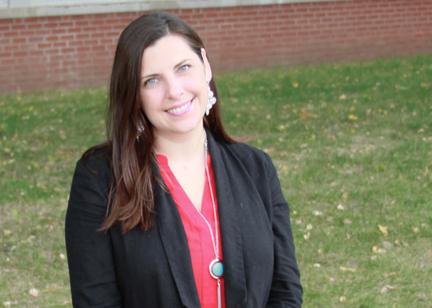 Amanda
Clinical Manager
Amanda is a Licensed Professional Clinical Counselor (LPCC) and has been with MoveFwd since 2013. She received her Master of Arts degree in Counseling and Psychological Services in 2004. Amanda provides individual and group therapy for adolescents and young adults. She utilizes narrative, cognitive-behavioral, and mindfulness-based approaches, while also focusing on interpersonal relationships and self-advocacy. Amanda welcomes creative emotional expression, inviting young people to share music, writing, and art in sessions.
Jake
Case Manager
Jake Mclean is an experienced youth worker who has dedicated 15 years of his professional life to developing and implementing programs to serve youth in diverse settings. Having served as an Community Specialist for the YMCA's Intervention Program, in the YMCA's after school programs, and as a Camp Counselor, Jake has a unique ability to meet youth where they are and develop a positive working relationship with them to help them succeed. Jake was born and raised in Minneapolis and enjoys everything the city and state have to offer including live music and spending time exploring the outdoors on his bike and paddle board.
Hannah
Early Intervention Upstream Case Manager
Hannah began working with MoveFwd in April 2019. She earned a Bachelor's Degree in Peace Studies and Political Science from the College of Saint Benedict and is pursuing her Master's in Social Work at Augsburg University. Prior to working with MoveFwd, Hannah served as an AmeriCorps member in the Minneapolis Public Schools and managed a Restorative Justice juvenile diversion program at a community mediation center. Hannah will be working on the Upstream Project with parents and students in the Hopkins school district.
Angela
Therapist
Angela earned a Master's degree in clinical social work from Augsburg University in 2017 and is a Licenced Graduate Social Worker. After graduating, Angela completed a two year clinical fellowship at Minnesota Psychoanalytic Society and Institutes's low-fee clinic. Angela began her practice at MoveFwd in 2019. While psychoanalytic theory is the foundation of her practice, Angela incorporates cognitive behavioral, motivational interviewing and art therapy interventions into her practice.
Jason
Case Manager
Jason started working as a case manager at MoveFwd in September 2018. He previously worked at an adult chemical dependency treatment facility for 4 years. Jason is pursuing a B.A. in social work through the College of St. Scholastica. When not working he enjoys spending time with his daughter, cooking, hiking and backpacking overseas.
Open Early Intervention Upstream Case Manager
Early Intervention Upstream Case Manager
Rachel
Office Manager
Rachel has a Bachelor of Science degree in Public Health Education. Her background includes 30 years working with nonprofits in operations, finances and staff support.
Charlie
Therapist
Charlie is a licensed graduate social worker (LGSW), specializing in clinical mental health. He has experience serving young people as a therapist and social worker in high school and college settings. He enjoys incorporating mindfulness, self-compassion and creative practices into his therapy work. In his spare time, he enjoys making music, baking bread, and going on long hiking trips.